Set to Build Two New Businesses with Striking Growth in 2022/23
The year 2022 marks the time BEYOND transitioned into a full-fledged hospitality player, which is right at the same time the industry is steadfastly picking up, with growing number of tourists returning to the country and COVID-19 related restrictions being lifted. As a result, the company was able to reap exponential revenue throughout the year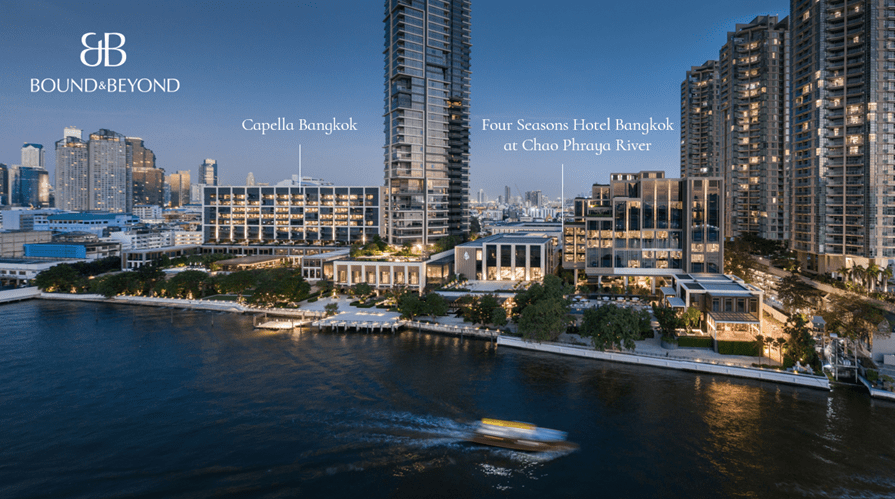 Bound and Beyond Public Company Limited or BEYOND, the owner of Bangkok's most high-end hotels along the Chao Phraya River – the Four Seasons Hotel Bangkok and Capella Bangkok Hotel – continues to deliver impressive performance from 2022 with its January 2023 revenue remaining on par with December 2022, which is the highest performing month of the year, thanks largely to rising occupancy rate. Moreover, the company's banquet and wedding reception services in 2023 are healthy booked for the entire year. In turn, the company projects to see continuous growth this year.
The year 2022 marks the time BEYOND transitioned into a full-fledged hospitality player, which is right at the same time the industry is steadfastly picking up, with growing number of tourists returning to the country and COVID-19 related restrictions being lifted. As a result, the company was able to reap exponential revenue throughout the year and adjusted its revenue target for the year 2022 from 1,800 million baht to 2,000 million baht, given its confidence in the potential of both hotels to bring in revenue from their rooms and restaurants.
As for 2023, the company's operational results are expected to be driven by the resumption to full operation of the two hotels that have been well-received by Thai and foreign guests, and the return of Chinese tourists, a major market source of Thailand's tourism industry.
Mrs. Kamonwan Wipulakorn, Managing Director of BEYOND said, "At present, BEYOND has two major assets in our investment portfolio, namely two ultra-luxury hotels by the river with a total of 400 rooms and 11 restaurants combined, as well as large banquet halls. The notable revenue growth from the two properties is not beyond our expectation as we have fervent confidence in the revenue generation capabilities of both hotels before making the decision to invest, given the world-renowned expertise of the Four Seasons and Capella hotel management teams. We expect 2023 to be another exciting year for us as we embark on the 'Road to Profitability' for both of our hotels. In addition, we have valuable land assets in Rayong and Tak province from our existing business that are in the process of being sold. The sale of both properties is expected to further strengthen our financial position for future investment. The selling process is progressing very well for our Rayong property and is expected to be finalized in Q1 2023. Another important strategy we will undertake is to explore more opportunities to expand our hospitality business, which this year, we are going to expand to two new businesses, including Experience-based Hotels and Resorts and Appealing Lifestyle F&B. Details of which will be further announced in the middle of this year."